Mission Statement
The San Diego International Kid's Film Festival promotes the idea of entertainment with education. Supported by many across the world, the festival supports the entertainment and education industries by showcasing international films, and gives young, aspiring filmmakers a channel to communicate to an international community. The resulting collaboration produces a unique multi-cultural experience, engaging young viewers with positive media, as a diverse education.
The 2014 SDIKFF
This year, the SDIKFF will screen over 60 films from 38 countries. We have selected over 48 shorts, one of which by an Oscar Nominated animator, John R. Dilworth's new film, "The Fog of Courage" ( USA). In addition, there are over 10 wonderful feature films, such as "The Friends" ( Korea), "Little Sami" ( China) and "Thunder and the House of Magic" (Belgium), nominated as our finalists. American filmmakers as well as film delegations from China, Korea, Taiwan, Canada, and many more, will appear at the event.
With goals to promote positive educational impact on children and the youth, the San Diego International Kid's Film Festival actively supports innovative films made by filmmakers from around the globe. In addition to the film screenings, the 2014 SDIKFF will host an Opening Night Gala, Culture Forums, Industrial Panel Discussions, and an Award Ceremony. These events will help to facilitate interactions between filmmakers and the local students. Students and audiences will critique the films after each screening, and volunteer interpreters will assist with non-English speaking filmmakers at all events. The Cultural Forum events will focus on topics such as film production in different countries and cultural contexts. The film juries consist of an outstanding committee of industry personnel. There will also be film distributors present at the festival to secure other desired material.
Check out our selections of SHORT FILMS; FEATURE FILMS; KIDS MADE FILMS

The 2014 Winners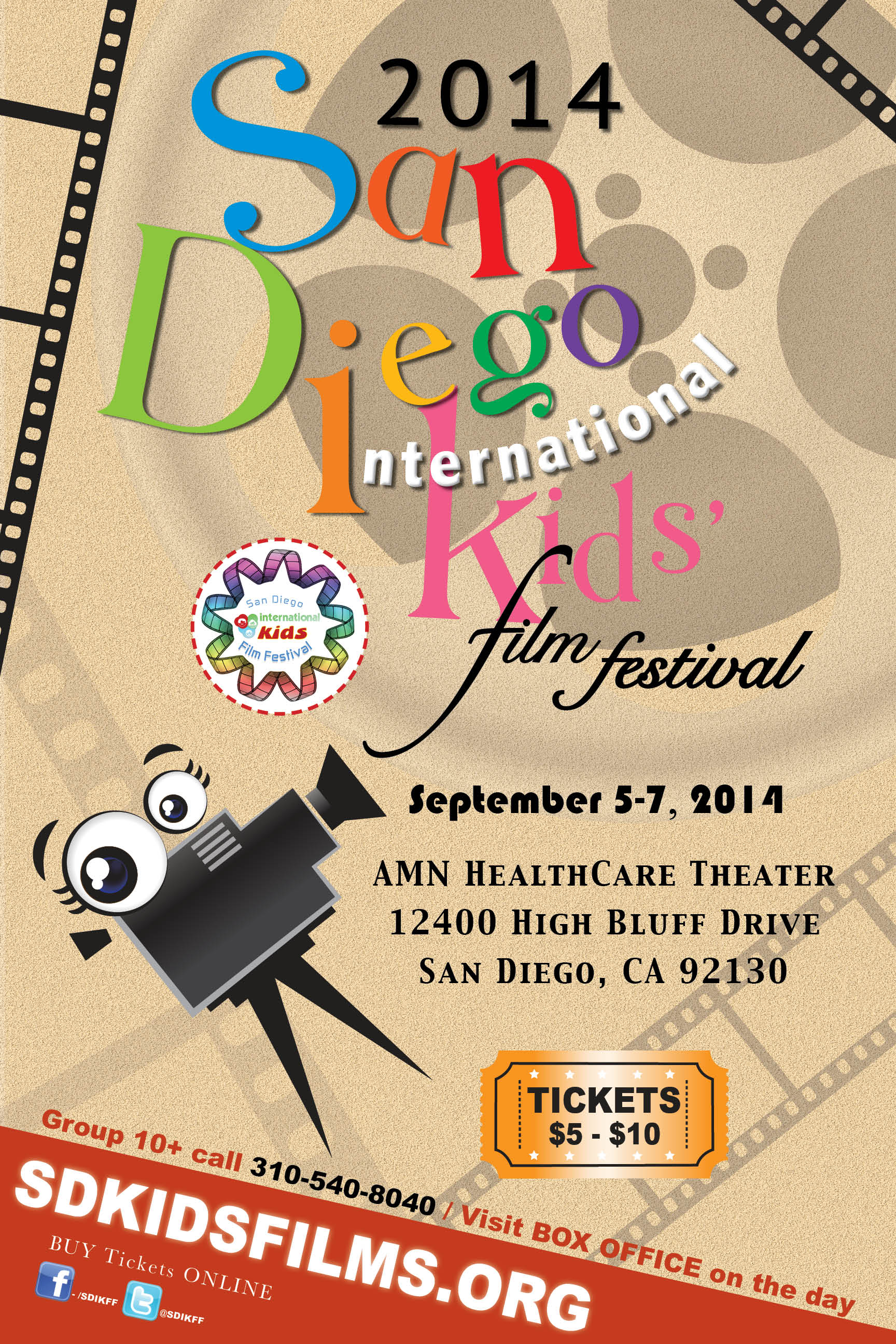 The 2014 San Diego International Kids Film Festival Program Book is here
The followings are parts of our photos for the 2014 SDIKFF events
2014 SDIKFF
Management Team:
Sherwood Jones
Lynn Tang
Lee Mariano
Yunicia Sun
Judy Hu
Ni Huang
Screenplay Show Case:
Director: Aina Feng
Film Jury:
Mr.Tim Swain
Mr.John D.McMahon
Mr.Dimitris Savva
Ms. Jeri Jacquin
Ms.Marte Riley
Mr. Karl Weiss
Ms. Judy Green
Mr.James Riley
Mr. Ron Shaw
Mr.Xuexin Wang
Youth Jury:
Cady Mariano
Mckenna Berner
Neeta Lachmandas
Ciara Reiter
Talisa Arboleda
Jacob Blasquez
Karah Blasquez
Lili McDonald
Katelyn Katz
Alexis Wellong
Brett Atchison
Media Partners:
Web:
sandiego.org
socalkidssandiego.com
SanDeigoreders.com
5zhou4hai.com
sina.com
chinafilm.com
SD chinese press
sandiegoparent.com
sdchildren.org
sdcitybeat.com
scoopsandiego.com
TV:
KPBS
San Deigo 6 CW Stay Turned TV
National TV
LA18
Tlemundo 52
CCTV International
Phoenix TV
WTV
Cox Cable
Tubefilter TV
Tlemundo 62
Radio
AM1300
Elnoticoto
Magazine:
UT San Diego
EDI media
China People
San Diego Magazine
WE Chinese
Newspaper:
Elnoticoto
Xinhua News Agency
Chinese Daily News
Chinese Business News
World Journal
Yangzhi News
Xingmin Evening News
San Valley News
We Chinese Weekend
Singtao News
China Press

Festival Partners:
Universe Multicultural Film Festival