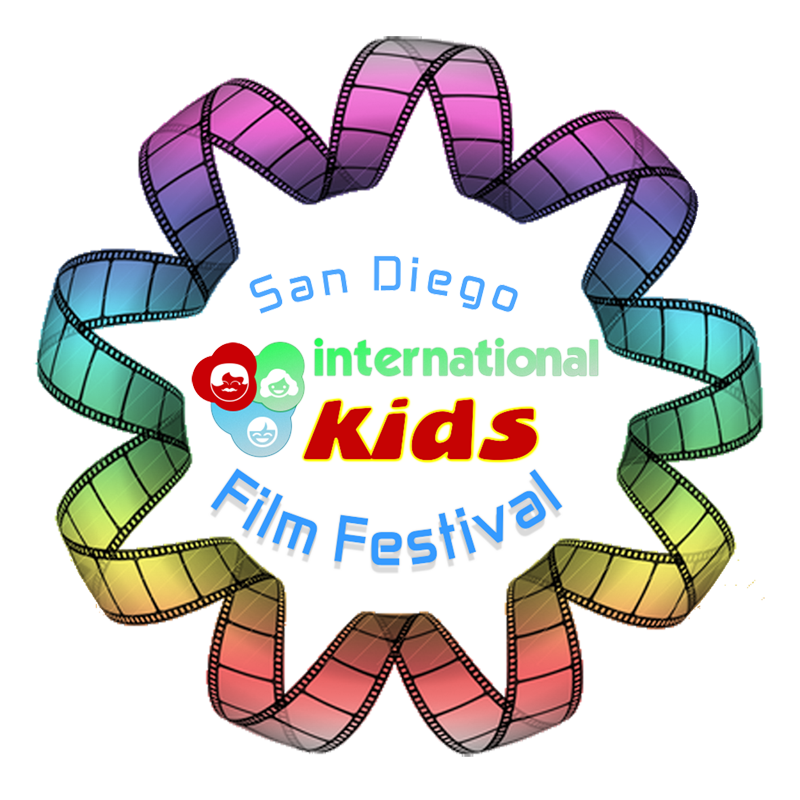 2018 San Diego International Kids' Film Festival
August 24-26, 2018

Schulman Auditorium (1775 Dove Lane, Carlsbad, Ca 92011)
Senior Center( 799 Pine Avenue Carlsbad, CA 92008)
Howard Brubeck Theatre (1140 West Mission Road; San Marcos, CA 92069)
Contact Us: Mail address: P.O.Box 4781; Palos Verdes Peninsula, CA 90274

Office Visit: By Appointment Only
Tel: 310-541-8040; E-mail: info@sdkidsfilms.org
The Festival depends primarily on private funding to ensure its continued growth and success.
Your involvement in San Diego International Kids' Film Festival plays an indispensable role: the Festival and its programs could not exist without your interest and support.
Support us:
• Make a Donation
• Volunteer for Film Festival
• Sponsorship Opportunities
• Internships
BECOME A VOLUNTEER
exciting volunteer opportunities await you with the San Diego International Kids Film Festival which take place August 25-27., 2017. SDIKFF needs volunteers year round to help with all aspects of preparation and execution of our projects and events. Volunteers assist at the theaters, festival office and hospitality desks at the venues - and in many other ways.
By becoming part of the festival team, you will network with other people, see films, and play a valuable role in the festival organization.
Please down load the Volunteer Application Form and e-mail it to Volunteers@sdkidsfilms.org, or mail it to P.O.Box 4781; Palos Verdes Peninsula, Ca 90275 to "Volunteer Coordinator" at SDIKFF
For on line, Sign up for Volunteer Registration for Film Festival (http://signup.com/go/kZLCNPM ) on @SignUpdotcom today!
BECOME AN INTERN
The San Diego International Kids' Film Festival is seeking applicants for intern positions in the film submissions, programming, development, operations and marketing departments. All interns will be part of the general intern team, but depending on interest and skill set some will work more closely with specific departments. Interns will gain invaluable first-hand experience in festival production through working with skilled staff members on projects and events.
This year, we are in the strongly need for interns in Video, Graphic design and media article writers of all languages.
Interns should be able to contribute 10-20 hours per week and be able to come to the office under the need base. Positions are open for immediate start and available through the end of the festival ( Sept. 2017). We look forward to working with a great group of students!
Duties
• Blogging about festival events, submission deadlines and other important information
• Researching and updating film school lists
• US and international outreach for both submissions and attendance
• Working closely with programming staff to screen films for the upcoming 11th festival
• Assisting in the creation of a film marketing strategy
• Answering filmmaker, volunteer and patron questions
• Creating fliers, drafting letters, and editing/updating office manuals
• Working to build the festival's audience base
• Helping at monthly festival film screenings (setting up, taking tickets, etc.)
• Updating the database
• Keeping the office organized, clean and tidy
Required Skills
•Applicants should be friendly, outgoing and confident in assignments at hand
•Basic knowledge of Microsoft Office, Excel and PowerPoint.
•Excellent writing and communication skills
•Ability to remain organized and multi-task
•Good phone skills to interact with filmmakers, volunteers, and attendees
•Excellent Internet and research skills
•Ability to have great fun
•Ability to do some physical work (event set-up or takedown, moving boxes, etc.)
For more information or to submit your cover letter and resume please contact: info@sdkidsfilms.org
Special positions in Video, Graphic design and media Article writers