The 2014 SDIKFF Award Ceremony Performing Artists
Ceremony & Live Performances;Sunday, Sept.7, 6:30-8:00PM;
AMN Healthcare Theater
SDIKFF emcee Mitch Earle
Mitch is a well-known, warm and friendly voice in San Diego and throughout Southern California. The Berkeley-educated author, journalist, documentary narrator and former local host of NPR's All Things Considered (KCRW, Santa Monica/Los Angeles) and current core member of the Global Alliance for Transformational Entertainment (GATE), is really a big kid at heart, having announced numerous parades (Coronado 4th of July, Mother Goose, Alpine, Palm Springs Festival of Lights, Encinitas Holiday Parade) and festivals (Voice of the SD County Fair, Santa Barbara Summer Solstice Celebration, L.A. Indie Music & International Film Summit, Conscious Life Expo, etc.)

Floyd A. Smith, Singer


Growing up in San Diego, CA Floyd A. Smith started his first singing group with his high school buddies back in the late 70's called Satisfaction. Floyd A. Smith has an unforgettable three-octave bass baritone range that will make you stop and listen. Charismatic and passionate about his singing he performs with Six-Time Grammy Award Winning The 5th Dimension in the role of bass singer. Floyd is set to record and release his first CD project. He will have your remember greats like Barry White, Lou Rawls, and Nat King Cole but with a touch of elegance that is "Simply Floyd".
This is a voice women will want to hear under their pillows and men wish they could whisper. That deep bottom and three octave range is incredible. It will slowly navigate to your heart and mind to remember the great's singers of our past. When Floyd A. Smith sings, it is a memorable moment, that you will never forget the first time you heard him.
Cady Mariano, Actress, Dancer, Singer
Cady Mariano (Age 11) loves acting, dancing and singing. She's a bona fide "Triple Threat," having placed 2nd in the San Diego County Fair's 2014 Ultimate Triple Threat Contest. She calls the stage as her 2nd home, performing since she was 3 years old. Her professional acting career has taken off recently, earning her roles as "Hannah" in the short film "D. Asian", and on stage role as "Phyllis" in 2014's "How the Grinch Stole Christmas" at San Diego's famed Old Globe. Her past stage experience includes many musical and non-musical roles in local theater. In addition, she has a long and extensive history of dance training, including Ballet, Jazz and Theatrical, and has performed in numerous dance/singing competitions, regularly achieving the highest awards and recognition.

Erdong Su; Composers, Musician, Producer
Mr.Su is a famous musician who is expert in Hui ethnic music. He compose, playing and perform the songs and musicals national wide. After his success in Musical, he starts to produce, direct films that express the Hui ethnic cultures and beautiful stories. Since 2010, he has produced three great movies. The " Never Look Back" is his 3rd film that will be screening in the 2014 San Diego international Kids film festival.

Thandizar Easley, Musician




Born in the city of Long Beach, Thandizar was born and raised in a music lover's family. His father, Earl performed in a band called IIIrd Degree. As a talented musician, Thandi play well piano, bass and guitar, earned the privilege of performing at the Pre-Image Awards as well as Post-Image Awards two years in a row. He's also performed with the famous jazz singer Barbora Morrison, a modern jazz pioneer John Daversa. Besides his instrumental abilities, Thandi has also been developing his voice, singing at different events, and producing his own music.




Thandi also puts great emphasis on education. Earning a cumulative GPA of 4.7. In 2010, he represents his school to speak to 125 teachers from China. In 2011, he participated in UCLA's Chinese Proficiency Contest. In Feb. 2012, he organized a play he wrote, dancing, character writing, singing, tai chi, and a shadow puppet show.

Melanie Jimenez, Singer


Melanie Jimenez is a six grader who can sing, act, play the piano and guitar and is a also ballerina. She is the student council president of her school and is in their Gifted and Talented Education program. She is a member her school's Theatrical ensemble and was the lead character in the play Mulan Jr. last year. This year she will be Wendy Darling in "Peter Pan Jr.". Melanie was crowned "Little Miss Philippines Universe" at the 27th Philippine-American Exposition in Los Angeles. She won a lot of local talent competition including grand prize in "So You Think You've Got Talent San Diego" and 1st place in the Triple Threat Singing Contest at the San Diego County Fair.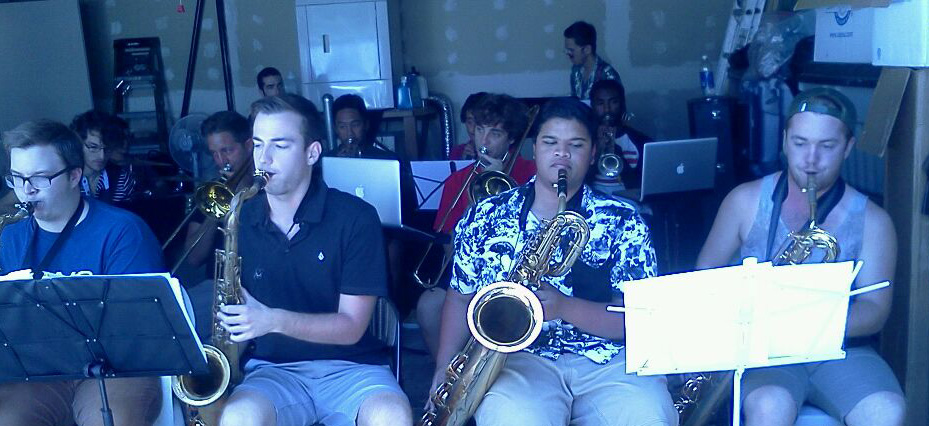 The Sophisticated Player
The Sophisticated Player is a group of artists dedicated to the preservation of music, and has been setting a new standard for musicianship across the southern California. This young but talented group has garnered much respect as well as support in their hometown of Long Beach. Thandizar Easley, the leader of the group, created the group a year ago, both composing and arranging music to be performed by the Sophisticated Players. Many of the members have performed nation-wide as well as internationally as some of the best musicians stemming from Long Beach California. The group features a 17-piece big band and several smaller groups that perform all over Los Angeles. Thandizar hopes to expand the musical horizon of the industry and reintroduce a sound that has not been heard for decades.
This group also prides itself as a mentoring group that inspires the newer generation of artists who hope to one day follow the footsteps of this phenomenal group. In the wake of a world that has made almost every aspect of life accessible, especially in the musical arena, the group helps young artists embrace these changes and develop their own potential.The goals of this organization are boundless, and in the near future, the Sophisticated Players will no doubt change the world for the better.